We offer a full Line of vehicle interior colors, fabrics, materials and services, including o.e.m. replacement as well as custom fabrication options of:
headliners

Carpeting

Door Panels

Floor Mats

L.E.D. lighting

Seats

Trim Panels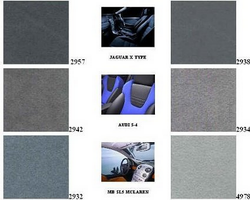 To Schedule Your selection and installation

Call 602.524.0807 Today!
Alcantara Suede headliners
Are you looking to make your vehicle truly unique and different from a similar vehicle by fabricating and installing a full custom yet elegant interior upgrade that will surely set you and your vehicle apart from anyone else? Well look no further...We "hand" fabricate and install Alcantara Suede headliners and accessories for all vehicle makes and models. Using the finest quality suede, we can update your vehicle with a wide range of colors available to provide you with simply the very best finished interior accents available today.
headliners

"A" Pillars

Sun Visors

"B" Pillars

Overhead Consoles

"C" Pillars

Rear Decks

Seat Inserts

Door Panel Inserts

We purchase "panel weight" alcantara suede materials on 60" width rolls which are specifically manufactured and sold directly to us for a 1-piece custom headLiner application. Oftentimes, this type of installation requires a larger than normal width, depending upon your specific vehicle.
All installations are competed with high temperature 3M adhesives to insure a lifetime installation of your alcantara suede materials. Unlike other shops that attempt to do what we do best, we also offer color matched plastic panel and trim accented areas for your specific year, make and model vehicle of any adjacent areas to our full custom suede installations.
Stop by today to see our finished product installed...We will gladly provide you with a price quote to give your vehicle that amazing look, feel and smell of Alcantara Suede.
Leading vehicle manufacturers like Aston Martin, Audi, Bentley, BMW, Ferrari, GM, Honda, Jaguar, Lamborghini, Land Rover, Maserati, Maybach, Mercedes, Porsche, Rolls Royce, Volkswagen have all come to rely on Alcantara's expansive color variety to personalize the interiors of their vehicles.
For those of you on a limited budget, we offer the same quality craftsmanship at fractional prices of Alcantara Suede by offering a faux suede headLiner material as a secondary option for your vehicles interior customization.
Please understand that there is a considerable difference in quality between Alcantara and Faux Suede materials but we do understand the word "Budget" so stop on by and take a look at what we can do for your vehicle today if you are considering having your vehicle dramatically updated with our professional interior services and top quality technicians.